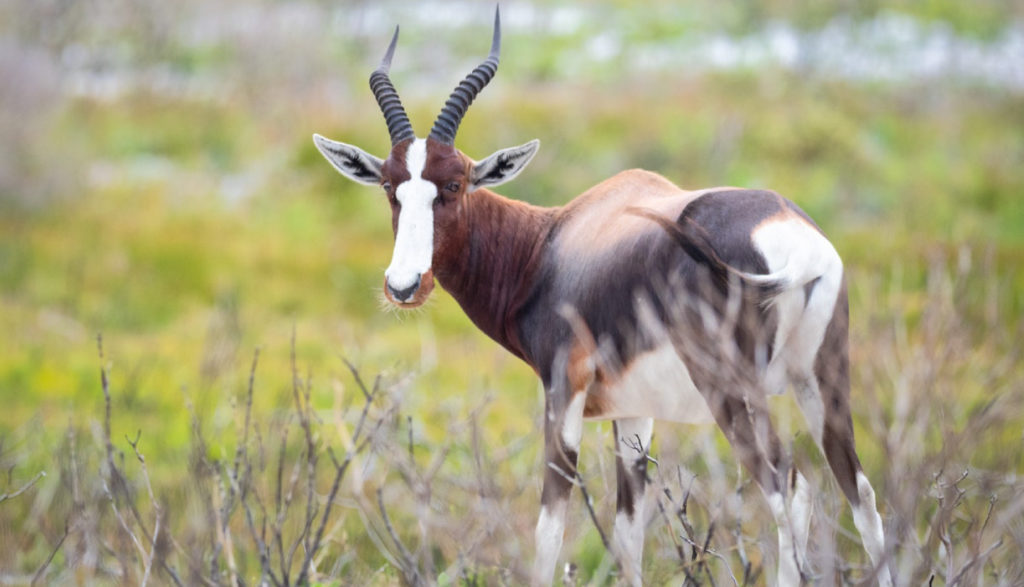 Bontebok National Park – Lang Elsies Kraal Rest Camp
Agulhas National Park is located on the southernmost tip of Africa where the Atlantic and Indian oceans meet. The park form part of the Cape Floral Kingdom UNESCO World Heritage Site.
Bontebok National Park is famous for its Bontebok which once neared extinction. On its western border flows the Breede River, with beautiful scenery, bird watching, fishing, and a refreshing swimming spot. The majestic Langeberg Mountains provide a backdrop for this beautiful setting.
The Bontebok Park is an excellent home base, where one can visit the surrounding areas of Swellendam with its interesting history.
Frequently Asked Questions
Activities:
Cape Agulhas Wine Route – the southernmost wine route
Museums - Shipwreck Museum (Bredasdorp) - Lighthouse Museum (L'Agulhas) - Elim Heritage Centre (Elim)
4x4 Trails
Whale Watching (June to September)
Swimming
Rock & Surf Angling
Visiting Art Galleries
Check-in and check-out times:
Check in from 14:00
Check out by 10:00
Office and Gate hours:
Monday - Friday: 07:30 - 18:00
Saturday and Sunday: 09:00 – 17:00 (closed between 12:00 - 12:30)
Facilities:
Vehicle repairs, post office, medical and police services are available at L'Agulhas and/or Struisbaai. The use of drones inside (and over) our national parks is strictly prohibited.
Take Note
Inventory: All accommodation is equipped with crockery, cutlery, cooking, utensils, bedding, towels & soap. Each accommodation unit has a braai-area outside.
Housekeeping: Prior to your arrival, your chalet is clean and furnished with fresh linens and towels. Daily housekeeping is included except for washing of dishes. Linen will be changed every 2—3 days; towels will be changed every day if so required.
Keys: Keys must be returned to reception on check out. Lost and damaged keys will be charged for.
Pets are not allowed in a national park.
No vehicles are allowed on the beach.
No person may drive off the existing roads - it is both illegal and damaging.
No person is allowed to gather wood inside the park boundaries.
No person may remove any rocks or plant from the park.
No day visitor's facilities are currently available in the park.
Motorcycles are allowed in the park.
Any Questions?
We would be more than happy to help you. Give us a call or email us, and we will get back to you asap.
021 8135868
travel@toursa.com