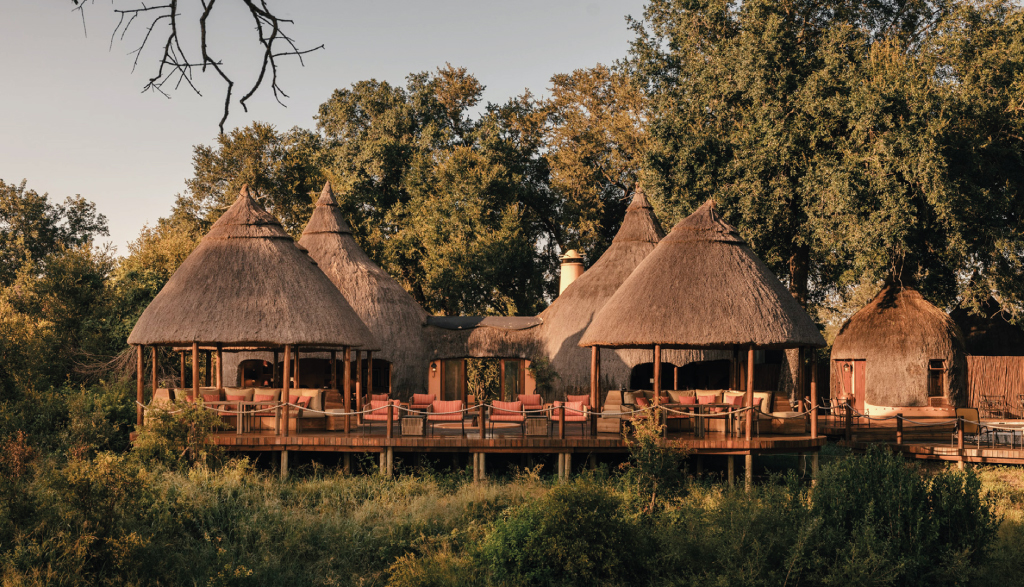 Hoyo Hoyo Safari Lodge
HOYO HOYO SAFARI LODGE is set on the banks of the Mluwati River in the heart of the Kruger National Park. A celebration of African style, from its traditional rondavel rooms to the splashes of colourful designer fabrics and earthy tones defining its interiors, Hoyo Hoyo Safari Lodge exudes a hearty spirit of warmth and welcoming.
Expect an authentic encounter that prides itself upon a relaxed African ambiance in extraordinary bush surroundings, the Kruger National Park.
Spend your afternoon lazing at the infinity pool, watching a parade of wildlife visit to waterhole to quench their thirst – from the majestic elephant herds, to select members of the cat family such as lion, cheetah, and leopard.
Circular Suites
Guests are accommodated in six circular air-conditioned suites with traditional brightly earth-coloured walls, tapered thatched roofs and folding glass doors that allows one to fully experience the wilderness.
Tsonga tradition runs throughout these comfortable suites; the warm glow of brightly coloured walls, traditional ornaments and little embellishments on lamps, door handles and mirrors bringing this local culture to life.
Relax on your private deck looking out on to the bush, take a long, leisurely shower in the open air or melt into your comfortable king-size bed for an afternoon siesta. It's your relaxing, informal bush experience on your terms.
Amenities include Safe, Hairdryer, Separate large stone bath and outdoor shower, Bathroom, insect repellent, Umbrellas, Air conditioning, Tea and coffee making facilities.
Frequently Asked Questions
Facilities:
Hoyo Hoyo Safari Lodge offers indulgent spa treatments and a soothing massage in the seclusion of your private deck with the scents of ylang-ylang, vanilla and cedarwood soothing body, mind, and soul.
There is no Wi-Fi or cellphone signal at this exclusive and remote safari lodge.
The sparkling swimming pool promises a refreshing dip while providing the opportunity to enjoy the rich and varied wildlife that comes to the river for a cooling drink.
Bird Watching

Our guides are more than happy to share their unrivalled knowledge of our feathered friends with our guests. There is so much to learn about birds on our concession. From the fierce martial eagle to the smallest and most delicate blue waxbill.

Bush Dinners

Join us for a lovely braai on the deck under the African sky.
Dining:
Your rewards for a hard day's safari are the delicious dishes created by Hoyo Hoyo Safari Lodge's talented chef.

Homemade baked goods, light salads, and local specialties such as beetroot salad and ostrich steak are served in relaxed surroundings; the sounds of the bush providing all the accompaniment you need for a memorable dining experience.

Enjoy a hearty buffet breakfast with a variety of fruits, nuts, yoghurts, breads, pastries, and cheese or opt for a full English breakfast with bacon, sausage and eggs; freshly squeezed orange juice and strong coffee at the ready after your morning safari.

Lunch is a light, informal affair with a buffet laden with tasty salads and meats. Followed not long after by High Tea with tea or coffee to wash down a delicious selection of cakes and pastries baked freshly at the lodge.

After a rewarding evening's safari, warm yourself around Hoyo Hoyo Safari Lodge's open-air fire and enjoy a magical three-course dinner under the stars. Good wine and good conversation flow while you listen to the enchanting sounds of the surrounding bush coming alive at night.
Any Questions?
We would be more than happy to help you. Give us a call or email us, and we will get back to you asap.
021 8135868
travel@toursa.com