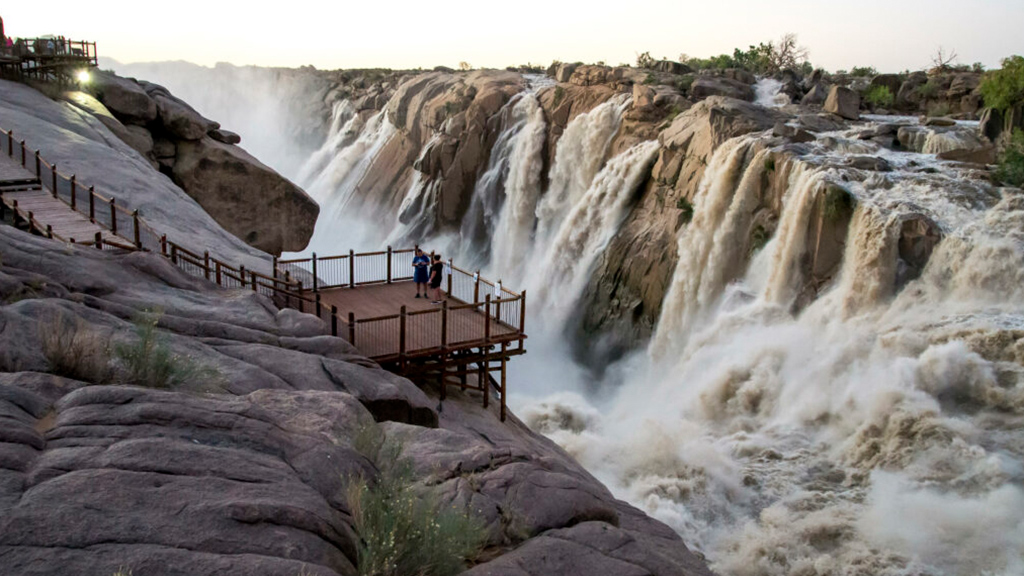 Augrabies Falls Park
Augrabies Falls National Park is named after the famous Augrabies Falls. The Khoi people called it 'Aukoerebis', meaning the place of the Great Noise. It is the place where the Orange River thunders its way over 60 metres in a spectacular waterfall. The 28 000 hectares on both the northern and southern sides of the Orange River provide
Chalet (CH2B)
Base rate 2 people
Max 2 people
lounge/bedroom
Aircon
2 single beds
Kitchen
Microwave
Crockery and cutlery
Wc and shower
Braai facilities
Situated in the Cape of Good Hope section
Chalets (CH2Z)
Ceiling fans
Base rate 2 people
Max 2 people
lounge/bedroom
Aircon
2 single beds
Kitchen
Microwave
Crockery and cutlery
Wc and shower
Braai facilities
Units accessible for the mobility challenged
Family Cottages (FA4S)
Base rate 4 people
Max 6 people
2 bedrooms, each with 2 single beds
a double sleeper couch (not suitable for adults)
Open plan kitchen/lounge
Aircon
Kitchen equipped with crockery and cutlery
Wc and shower
Outside braai facilities
Family Cottages (FA4D)
Base rate 4 people
Max 6 people
2 bedrooms, 1 en-suite with double bed and 1 with 2 single
a double sleeper couch (only children)
Open plan kitchen/lounge
Aircon
Kitchen
Microwave
Crockery and cutlery
Wc and shower
Patio with braai facilities
Chalet (CH2/4VD)
Base 2 people
Max 4 people
2 single beds
Double Sleeper Couch (not suitable for adults)
Aircon
Kitchen
Wc and shower
Chalet (CH2/4V)
Base 2 people
Max 4 people
2 single beds
Double Sleeper Couch (not suitable for adults)
Aircon
Kitchen
Wc and shower
Camp Site (CK6P)
Base 2 people
Max 6 people
Powerpoint
Frequently Asked Questions
Activities:
Waterfall viewpoints walking distance from the restaurant complex.
Game viewing at leisure, using own vehicle.
Hiking, Nature and Mountain biking Trails.
Guided Night drives. Several panoramic viewpoints in the reserve.
Office Hours:
Monday - Friday: 07:30 - 18:00
Saturday and Sunday: 09:00 – 17:00 (closed between 12:00 - 12:30
Gate Hours:
Please note that although the gate is manned 24 hours a day, you need to make prior arrangements with the park if you plan to arrive after 18.30 or wish to leave before 07:00.
Facilities:
Picnic area for Day Visitors with ablution and barbecue facilities, and a swimming pool.
Shop, Shibula Restaurant. Public telephones, fuel.
Three swimming pools for residents. Conference Facilities
Take Note
Pets are not allowed in a national park.
Motorcycles, bicycles, rollerblades, and skateboards are not allowed.
Firearms must be declared and sealed on arrival. Seals will be broken at reception upon departure.
Malaria prophylactics and mosquito repellents are a good precaution. Malaria has been historically recorded in the area but is not very prevalent. Please consult your chemist/doctor to alleviate any concerns.
Vehicle repairs, medical services, post office and police: Kakamas (40 km).
Climate
Hot summers and cold nights during winter. January to April is the rainy season. March to October are the most pleasant months in the park.
Take Note
Remember to bring a hat, walking shoes, sun block, camera, binoculars and wildlife reference books. Shoes must be worn on summer evenings to avoid scorpion stings.
Hikers on day and overnight trails must always carry sufficient water. Take cool or light clothing for summer and warm for winter - area prone to sudden weather changes.
Any Questions?
We would be more than happy to help you. Give us a call or email us, and we will get back to you asap.
021 8135868
travel@toursa.com